The Robber
with Andreas Lust and Franziska Weisz
Director: Benjamin Heisenberg. With Andreas Lust, Franziska Weisz, Markus Schleinzer, Max Edelbacher
A 2009. 96 Min. Production: Nikolaus Geyrhalter Filmproduktion GmbH / Peter Heilrath Filmproduktion International Sales: Films Distribution
Synopsis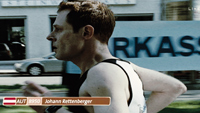 Benjamin Heisenberg's thriller DER RÄUBER (THE ROBBER), recently awarded with "Best Newcomer" in the director category at the Bavarian Film Awards, is based on Martin Prinz' novel which tells the story of the spectacular criminal escapades of Austria's infamous "Pump-gun Ronnie". Johann Rettenberger (Andreas Lust) a misfit in the world he's been released into and driven by his endorphin addiction embarks on a spellbinding journey to run marathons and rob banks.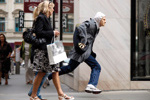 DER RÄUBER (THE ROBBER) is Benjamin Heisenberg sophomore feature film following the successful SCHLÄFER (SLEEPER), and is based on the true story of "Pump-gun Ronnie" which Martin Prinz used as source material for his eponymous novel. The film tells the story of Johann Rettenberger (Andreas Lust) a restless misfit whose anarchistic worldview leads him into an unavoidable conflict with the society which suffocates his free spirit.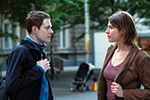 Heisenberg portrays the robber as a top level athlete an "endorphin-junkie" who is driven by an inexplicable desire to stay in motion. Motivated by the pure beauty of the criminal campaigns he executes, he is both cool and calculated whilst also fast and resourceful in the frenzied intensity of his criminal exploits. Rettenberger's emotional indifference to rehabilitation is shattered the moment Erika steps back into his life during a chance meeting at the job centre. She offers him refuge and a place to stay, however the dark secrets he hides from her and his probation officer soon overwhelm him. Misguided in his dual search for love and freedom, the authorities finally begin to close in on the robber.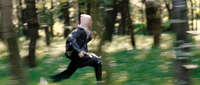 Moved by an over-powering inner energy he attempts to flee the largest deployment of police forces in Austria's modern history, but will his wit and athleticism give him the opportunity for one last escape. DER RÄUBER (THE ROBBER) is a thriller about reckless bank robberies, heart-pounding marathons, ill-fated love and dramatic escapes.